My love of art and pets combined
I'm an animal lover – especially dogs and I understand just how much love and joy they bring to our lives.
It was my own pets that gave me the inspiration to start painting pet portraits in the beginning. I wanted something that captured their beautiful personalities more than an enlarged photo could, an heirloom that could live on after they had gone.
I was interested in art at an early age and was forever drawing and painting.
My favourite thing to draw were stubby little Thelwell ponies, which I copied from the books. I loved the way the spirited nature of those naughty little ponies was so perfectly illustrated. Their plump bodies and expressive faces told a story so well.
My parents were very supportive of my love of art. Mum subscribed me to a collectible art series where you received a book on a new Master each week. I loved reading about their stories and their inspirations, and most of all enjoyed looking at the artwork. We collected the whole series - all 96 of them!
I was lucky enough to grow up in semi-rural Victoria, with big cumulus skies and lovely natural bush land. I was blessed to have many family pets and animals in our household. I loved them all, particularly the dogs and horses. They brought me friendship, humour and honesty.
I studied art all through school, and art school, not because I wanted to be an artist, but because I loved art.
At the completion of a fine art degree, I was labeled the most talented painter of that year, but I lacked the confidence in myself to pursue a career as a full time artist. I really didn't see myself as one- just someone who loved to draw and paint. I didn't feel like I had anything of value to say, so I turned my back on art.
Throughout the years of not painting or drawing, my creative side has always been nourished through other productive pursuits. I learnt art forms in different disciplines, from music to storytelling and crafts. This satisfied me until, in 2015, my singing group dissolved, our eldest daughter left home, my job was not creatively satisfying and I was asking myself - now what?.
And then slowly, but surely my artist's eye started to focus. I began looking at the animals looking healthy, happy and content in the lush green paddocks of our home, and wondered what they would be like to paint.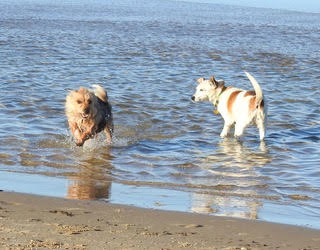 I have always loved dogs so my initial subjects were my two terriers, Goldie and Layla. I branched out to practise on other dogs and painted the pets of family and friends.
It was difficult re-learning the craft of painting after 20 years, but with the encouragement of my ever supportive husband Lawrence, and our two daughters, I was honing my skills and growing in confidence.
I now have portraits hanging in Australia and overseas.
I realised that I have a gift of expressing the gesture and individual personality of each pet that I paint, and I love to share this talent with as many pet lovers as I can.
I have been told that my memorial paintings have helped people with their grieving of a lost pet, because the artwork brings a closeness to the pet, and it is like a part of them is still present.


for my artwork to be the bridge that connects the love and joy between a dog and his human.
I aim to spark these emotions that a person feels for their fur-baby. When they look into the eyes of the painted dog, I want them to feel like their pet is with them - if not physically, then certainly in their heart.